Sharepoint Social employee Recognition & rewards
Leader-to-peer, peer-to-peer official employee praise redeemable for monetary or non-monetary value.
Staff can redeem rewards like Massage Envy, Visa, or Cabela's.
Focus & analyze company culture through a value-driven program.
And much more all inside Sharepoint and Microsoft Office 365.
看視頻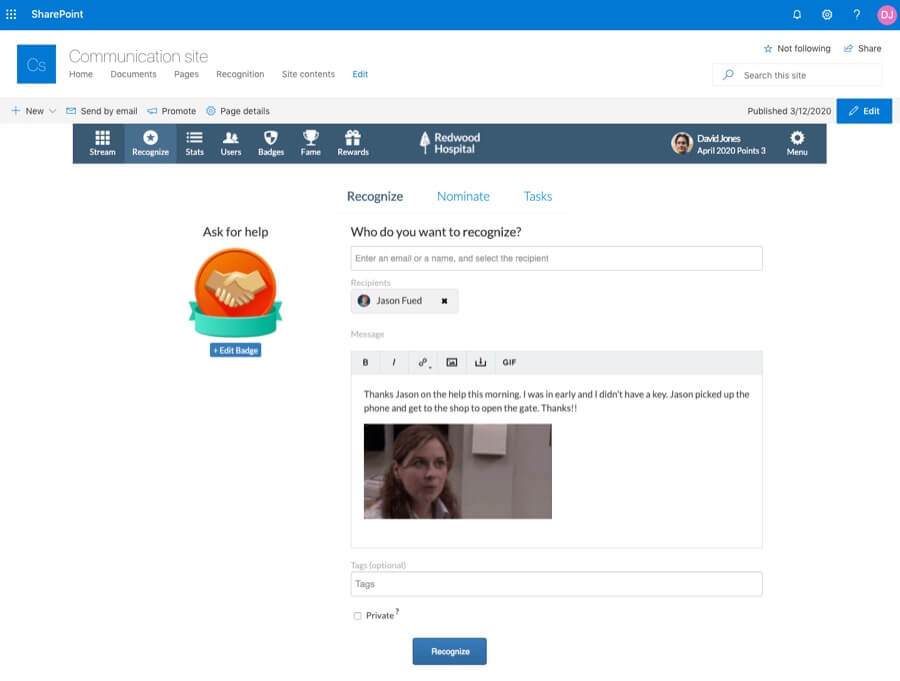 Redeem rewards from Sharepoint
Much like the other Office 365 tools, Recognize inside Sharepoint also provides access to the gift cards and rewards catalog. Staff can redeem either rewards Recognize provides in the form of Amazon, Visa, Starbucks, and other brands as well as company-fulfilled rewards. These can be items including company sweatshirt or dinner for two.
View Recognize rewards
Seamless experience
When a manager recognizes their employee publicly in Microsoft Outlook, it is now immediately visible in all the other Office 365 tools. It will be inside Sharepoint and MS Teams right when the recognition is sent. That interconnected experience is what companies need to demonstrate the importance of company values and culture.
See Office 365
How to add Recognize to Sharepoint
It is super easy to add Recognize to all of the tools inside Office 365. In Sharepoint, Recognize is a web part that can be added on any page. It can be a full width experience or a side panel. The video goes through how to create both.