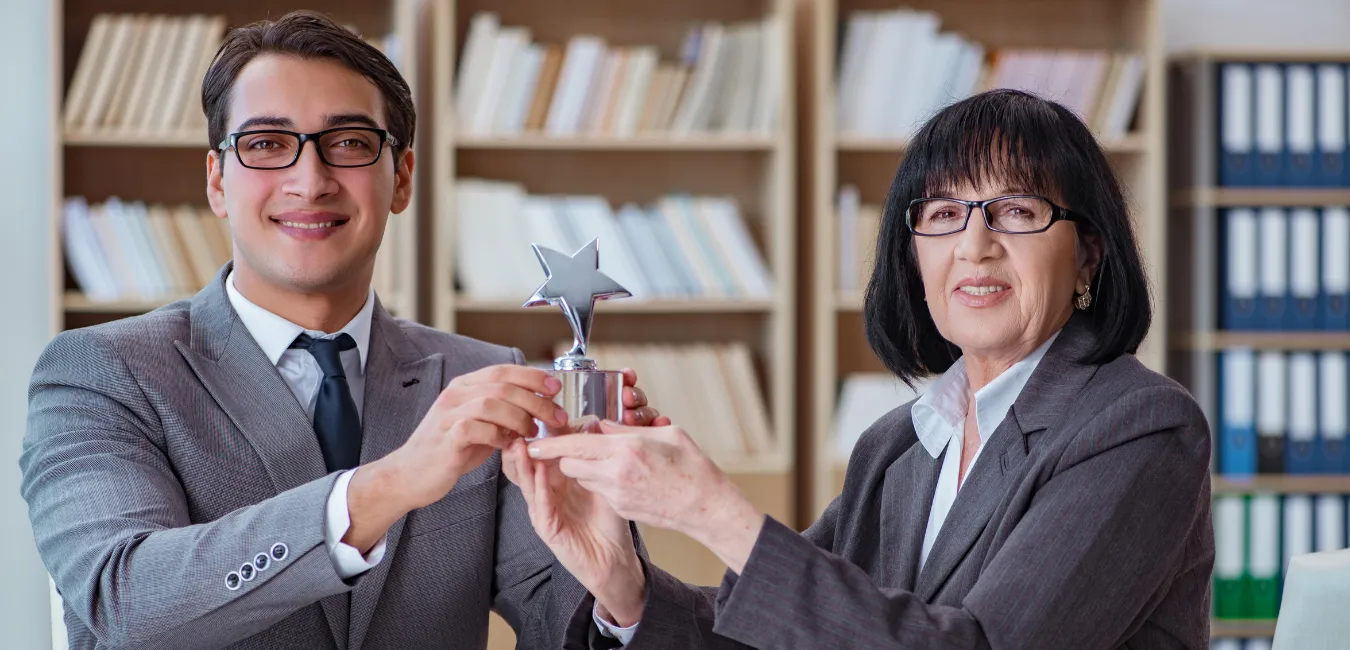 Not all the years of service awards are the same. Some lack the excitement, some are too jumbled, and some programs are not even liked by those participating in them.
There are some definite reasons why a lot of these milestone awards or service-related awards are not utilized to their full potential. This is a sort of lost opportunity for many companies when it comes to making sure their employees feel appreciated and seen.
Employee service and milestone awards are the traditional ways of improving employee engagement and satisfaction. It's also one of the main ways of showing your appreciation towards your dedicated employees. When these employee service award programs are ignored or neglected, they also increase the chances of disengaged and unmotivated employees.
It's essential to provide visibility to your employees. This will make them feel more recognized and appreciated.
What are Milestone and Service Awards?
Employee milestones and service awards for employees are more than just awards. These are a token of appreciation that you show to the employees for their services. Every employee wants to be recognized for their values, talents, and the services they have provided the company over the course of their careers. It does not matter if it is their first year or their 20th in the company.
Moreover, many names are given to service awards like:
Milestone awards
Service milestones awards
Length of service awards
Service anniversary awards
Employee anniversary recognition
All these awards are meant to be given to employees who have contributed dedicatedly with their services to the company. These awards will serve as recognition and appreciation for their hard work.
How Have Service Awards Changed?
Historically, milestone awards for employees programs were more of a strategy used only to benefit the company or organization. These were casual rewards or recognition packages for the employees. Moreover, these awards were conveyed to the employees through mail or just by handing them a simple certificate. These awards were only thought of as service award vendors and nothing else.
However, today these award milestone services have changed a lot. Now, these modern award services have become more than just certificates and emails of appreciation. 
In this modern time, employee service award programs have more impact than they used to. These services have now become more combined with various other employee recognition programs, and this is to make a more holistic strategy that:   
Rewards results

Praises everyday effort

Celebrates career at specific intervals
These modern employee service award programs help the employees to:
Honor friendships

Create great moments in their work-life

Foster a sense of belonging 

Stay motivated and productive
In short, you can say these award programs can build the employees' self-esteem. This will help them be even more engaged and productive in the workplace.
Benefits of these Years of Service or Milestone Award Programs
These programs provide more than just recognition and services. Instead, these award programs can have significant impacts on the success rates of your company. 
The following are some of the most significant benefits of arranging milestone recognition programs: 
 81% of the employees claim that career milestone programs help them feel more valued for their work.

In recent studies, it has been determined that employee engagement increases by about 35 % when they receive these awards

It even motivates colleagues to deliver more productive work, especially when they see other employees receiving these recognitions.  

Several nations even provide tax benefits that can help you save money. 

It also fosters strong trust and bonds among employees. This will make them more committed to the company.
The Different Stairs of Career
A career is developed through time, and it also requires dedication and hard work.
Employees experience a range of emotions during each of their professional periods and stages.
Their feelings in year 1 or year 5 are pretty different from the feelings they'll have in year 25.
Service or milestone awards should honor and recognize the employees' dedication at various stages of their work-life.
Therefore, below is an overview of each professional stage and how employees may feel during these stages.
1st Year (Learning Period)
In this year, employees have successfully navigated the learning periods and are taking invaluable tactics and information. They are starting to offer value to their professional life and are proud of themselves for completing their first year of work-life.
Three years (Fitting and Adjusting)
Employees are becoming committed to their teams and are even developing a sense of belonging. In this stage, they want growth and development and are constantly on the lookout for new chances.
Five years (Expertise)
After the completion of five years, employees gain confidence and develop into experts in their fields. They become valuable assets for their team and coworkers. However, in this period, they might start doubting their worth and think about shifting somewhere else.
Ten years (Belonging)
During this period, employees develop a genuine sense of ownership in the business. They now consider their coworkers to be family but are still establishing their place in the organization or company's growth.
Fifteen years (Invested)
Employees feel more invested, secure, and capable of balancing work and personal life. They recognize the benefits of this working relationship for the rest of their lives and are proud of their contributions to the company so far.
Twenty years (Veteran) 
Employees have witnessed significant changes by this stage, both personally and professionally. They possess an abundance of information and expertise that they gradually pass to newer or younger colleagues.
Twenty-five years (Triumph)
According to employees, this is the most significant milestone of all time. It's a dream of any professional to reach this stage of their career.
Thirty years (Mentor)
Employees become the brand ambassadors of their companies. The amount of experience and knowledge they possess is nothing less than an asset to the company. Moreover, they train other employees and pass on their tactics and knowledge.
A few Examples of Years of Milestone Awards
The milestone awards for your employees should be something they "want or desire," not something they "need."
While you might think cash is appreciated, there are chances that an employee will use it to pay bills or make other personal purchases. 
Consider the following examples of years of service rewards at various career stages:
1 Year (Learning): Presenting a new employee with a "Rookie of the Year" award can significantly increase their confidence. Consider giving your company's merchandise or even a gift card to a local restaurant.

Three Years (Fitting In): Expressing gratitude for three years of service goes a long way toward helping an employee feel a sense of belonging in the organization or company. So, you might consider giving them a gadget or homeware as a present.

Five Years (Expertise): Once an employee has developed into an expert in their field, it is pretty important to recognize their contribution. You should consider giving them a basket of unique items. Ten Years (Belonging): Ten years with a company is quite an accomplishment, so be sure to honor this milestone. A plaque gift or even a weekend getaway can be an ideal employee service award gift.

Ten Years (Belonging): Ten years with a company is quite an accomplishment, so be sure to honor this milestone. A plaque gift or even a weekend getaway can be an ideal gift.

15 Years (Invested): An invested employee also deserves to be invested in as well. So don't let this special year go in vain. You can present them with a glass trophy or even an elegant piece of jewelry.

20 Years (Veteran), 25 Years (Triumph), 30 Years (Mentor): Your devoted employee deserves significant appreciation after 20-30 years of service. Consider giving them a customized watch or even a vacation package as a token of your appreciation.
These gifts serve as service or milestone awards and are generally loved by most of the employees. However, you still want to make sure that you know what your employees desire to have or want to get.
Bottom Line
Employee service or milestone awards are indeed one of the most crucial strategies for making your employees more productive and committed to the work they do.
This will not only benefit them but will also increase the overall growth of the company or organization. Therefore, management should take these employees' years of service awards seriously.