Walking up six hours before the rest of the team, I open my laptop and check in with our international team. After addressing questions, I'm able to keep them moving along swifter than if I was home. Afterwards, the gym awaits for an hour long work out to calm the spirit. By the time most of the team comes online, I've worked four solid, focused hours. I check with them to make sure everything is moving smoothly and take an hour to sight see. Finally, I wrap up the day with another solid three or four hours. That's the life of working while traveling.
Work From Travel Benefits
When we Work from Travel (WFT), we can become even more productive than in an office or working from home. Although I've argued for work from home in the past, WFT has additional benefits.
Increased Well-Being
Many love to travel. It allows them to see new sites, smells, experiences, and ways of life. It gives people new perspectives. Often times, at least in the United States, we only have 2-3 weeks a year for a vacation to travel. When we can work while traveling, we can travel more without sacrificing vacation time. It's been found working from home increases well-being and increases engagement, as reported by Gallup
Gallup indicates staff who work from home report higher engagement and happiness in their work.
Increase in Productivity
While we need to do actually empirical analysis of this point I'll admit, I can say from personal experience I can be more productive working while traveling than any other environment. Nearly all distractions from working from home or from an office are eliminated. Further, Gallup indicates staff who work from home report higher engagement and happiness in their work.
Airbnb's prevent us from distractions on pet projects. When we travel, we travel to places that don't require a car. Thus, the traveler does not need to venture far for food or provisions. Most people in the United States can't afford a nanny and cleaners. The average cost of day care is now $1,000/mo in USA. However, in Oaxaca, Mexico an 8hr a day nanny can cost as little as $20/day. Most Airbnbs come with weekly house cleaners. Every hotel offers near daily cleanings. When traveling, we can focus entirely on my work when in places that we can afford support.
Jonathan Ramdsen of Columbus, Ohio recently wrote into The Economist and highlighted when Newton worked from home during the pandemic, he wrote the theory of gravity. What can we develop when traveling or at home?
Increase in Creativity
When traveling, our senses open to new possibilities. We see things in new lights. We can carry these new mental connections to our work. We can come up with new solutions and new ideas. If you need more convincing, read here.
How to be Productive Working From Travel
But just traveling and expect to be productive isn't likely alone. One must plan ahead.
Rental Housing Tips
Wifi
How fast is the wifi really? Ask for screenshot of the upload speed, not just the download. Look at the listing reviews of properties around the property you are interested in renting. Are there complaints about the wifi? The same neighborhood usually has the same wifi.
Look for Attention to Detail
Ask ahead of time if there is a printed manual or guide to the property in place. I have personally noticed Airbnbs that do not have this are not organized and lack attention to detail. Plus, you spend a lot of time asking questions for things like how to turn on the stove, what is this switch do, where are the knives, do you have a cleaner? If they put time into a guide, they are likely more organized.
Cleaner
Ask if there will be a cleaner every week. Not a big deal but nice to have someone come and clean up after you so you can focus on work.
Avoid Remote Locations
Their infrastructure may not be great. Driving to get a meal takes away from being productive. Plus, if wifi goes down and cell reception isn't great, then you can't use your Hot Spot as a back.
Avoid Lack of Quality Seating
You can't work from a beach chair. You need a quality work environment either at a local co-working space or in your rental unit.
Avoid Too Many People with You
I've heard horror stories of people going in big groups to an Airbnb and arguing over who can do video calls because the wifi only supports one call a time. Go with one other person in your unit. Don't go in big groups.
Sometimes, Hotels are Better
Airbnb hosts can be incompetent and the seating can be terrible. Many new hotels have very affordable rooms with amazing lobbies for work and food. Look at all your options. Vrbo, hotels, and Airbnb.
Tools to Work From Traveling

The portable monitor is something of a technological marvel. Thanks to advances in LEDs in the past 15 years and USB-C, we can now travel with a second monitor that is ultra thin. One can plugin into the monitor or your laptop and power both. They are adjustable in angle for the right viewing. They come in different sizes depending on the size of your carry-on and your comfort. They do require special USB-C cables, so don't loose the one that comes with yours. They can cost now less than $200-300 and are a must have. Anyone serious about working while traveling needs a portable monitor. If you say you don't need one, then I question the type of work and productivity you are producing. Here are a few from Amazon to pick from.
The Luggage
Everyone I know, and see at the airport, prefers a roller suit case. I find these problematic. It is only as strong as the weakest Link, which are the wheels. Once a wheel breaks, the entire roller is useless to most people. With the throw-away-replace culture we live in today, good luck getting that wheel fix. Further, depending on where you go, cobble stone roads and stairs make the roller suit cases a hinderance.
I prefer the Osprey 90 liter Traveler duffle bag. Not only does it fit in most USA-based overhead bins, you can wear it as a backpack. It is waterproof and essentially indestructible. As a duffle bag, it fits into a laptop-sized bag and can be stretched full. Without metal, wheels, plastic, or a frame all the weight comes from your stuff. That can help keep it under the 23kg or 45lbs of your airline carrier weight restrictions. The major downside is at 40-50lbs it is heavy on the bag. It takes work to move it from one place to another when completely full.
In either cause, using a set of compression bags allows you to carry a lot of clothes in an organized way. It separates the pants, shirts, and underwear into different compartments. They allow you to bring a lot with you in a small space.
Mystery Ranch Superset 30
For a carry-on bag, this is where I have a more definitive answer. Climbing backpacks, such as Patagonia Cragsmith and the Mystery Ranch are excellent choices for carry-on bags. By the way, one thing I've noticed about budget airlines is they never check your bag size when the bag is tall. The Patagonia Cragsmith is 70 liters but generally tall and not wide. Wearing a backpack gets past gate checkers looking to make you pay more. Once on the plane, even if you didn't pay for overhead, you can throw your bags up top. The flight attendants are not there to regulate where bags go as long as they pass FAA regulations. The Cragsmith may not be for everyone given the size. Looking for a smaller bag with many compartments, look no further than the Mystery Ranch bag.
The Mystery Ranch is designed for climbers who commute to work and climb in the gym at night. But given the number of compartments, I see it more as a travel carry-on.
Mystery Ranch Specs:
Laptop compartment
Five zipped, heavy duty compartments
Water bottle side pocket
Two tightened inner compartments
Three main sections, one of which is clam shell and the other opens completely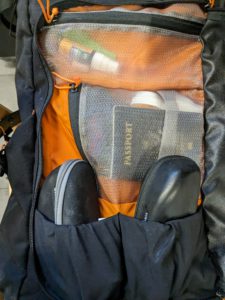 This is one of the best bags I've ever owned. The backpack straps can be stowed, much like the Osprey duffle, to be carried as a brief case. It has a "shoe" compartment, which could simply be a dirty laundry or extra area to separate from main items.
The two downsides to this bag is depending on where you are traveling, the second main compartment could be opened from someone behind you and things could be stolen. I wouldn't keep anything in that area you wouldn't mind missing later if traveling in say, Bogota. The second downsize, which actually could be considered a plus, is the draw string top. It makes grabbing something and closing the top super easy. But then there is a long string hanging from the top and it isn't a waterproof top. Plus, easy for someone top open it from behind.
In the end, great bag given the number of compartments. The number of great bags out there is endless. It is all about finding what you love no matter if it is an Osprey, Mystery Ranch, Black Diamond, North Face, Chrome, or Mission Workshop.
Almost any roller suitcase will do. But the Beis gets great reviews.
Adapters
Don't forget your adapters! Most hotels and airbnbs have them but you can't be guaranteed that. Plus, in England there are two different adapters you need depending if you use a plugin razor to save. If you don't have one, of course easy to buy, but nothing worse than having a drawer of the same type of adapters at home.
Spices
Having a spice mix in your bag is an important one if you plan to cook at home at all. I opt for a spice mix with salt, onion powder, some other stuff. This fulfills your need of salt and a bit of flavor to most savory dishes. This solves the issue when an Airbnb has nothing but a stove.
Creature comforts
What things make you feel comfortable? Mark Synott of the North Face climbing team would bring his home pillow along with him no matter how remote in the world he went. What lounge wear, sweatshirt, or item that brings you back home to your comfortable place. Another thing I bring is a bottle of bitters. When I have guests over to my apartment when abroad, I like to entertain with a cocktail that aims to impress. Nothing like some celery bitters with your Gin and Tonic for your after work wind down. It's important to have that when traveling when you are feeling home sick.
Eighty-seven percent of Americans drink coffee. When on the go you can't be ensured to have it for free or to have any good coffee nearby. Plus, always having to go out to get coffee keeps you away from being productive in the morning. I like to get up, have a coffee in my Aeropress, and get to work. Aeropress not only makes a delicious cup of coffee, but it also is easy to carry. Find a local cafe to get that espresso ground coffee.
Another tip with coffee is to bring enough coffee with you in your bag to last you the entire trip. By the time the trip is over, now you have room in your bag for some souvenirs and gifts.
Clip-On Glasses
If you don't wear glasses, skip this one! Otherwise, I love Zenni.com. They make affordable glasses that are really nice. I won't go back to other glasses providers. My Calvin Klien and Warby Parkers scratch within a couple of months. Not my Zenni glasses and I sent only $90 for top of the line glasses. Another great perk is getting the sunglass clip ons. These turn your glasses into sunglasses and also protect your glasses. When the sunglass covers get scratched, throw them away and get another new $3 clip-ons.
Why is this a travel tip? Because you don't need to bring multiple glasses. Just bring one that acts as both. Less things your bag, less to carry.
The brand "Smart Wool" is all the rage right now. But they are just wool end of the day. Wool is great because they are padded and also don't accumulate odor. Great way to cut down on clothes that need to be washed when they continue to be odorless and clean feeling.
Bose is the best. Their over ear headphones , but they are large. Ear buds are the way for traveling, because they aid when on noisy flights or when in not the best environments when having Zoom or MS Teams meetings.
A collapsable laundry bag is super useful when traveling because it is easy to carry and keeps your laundry separate.
Portable laundry soap
Often times, Airbnbs have a laundry machine but no soap. Bring a small portable bottle with you.
Ear plugs and face mask
Sleep well in any environment with these items. You never know the environment in which you will need to sleep when traveling. Plus, ear plugs protect your ears when at concerts.
Stop buying water bottles if possible. Not always possible but you can try. If you can't find filtered water in an airport, starbucks will fill it for you.
Try getting a collapsible water bottle like this one. Easy to pack down and on arrival fill up at Starbucks or a water station.
Traveling in Style
To best travel in comfort and style, optimizing your experience by being prepared.
Contactless Payment
Make sure your phone has a credit card on it for Google Pay or Apple Pay. Then, you can leave that credit card in your hotel rather than carry it around. I don't like to carry my debt card in case it is stolen or worse someone forces me to empty my bank account. But you can have that card on your phone. More and more places take contactless payment. The London Tube takes contactless payment for entering and exiting. No tickets needed.
Credit Card Travel Points
Get yourself, or your business, a travel credit card. You must be committed to paying it off every month otherwise you loose the advantage due to interest. However, if you can pay for everything with one credit card, then you can accumulate points. If you can accumulate, as of this writing, 300,000 Capitol One points, you can fly first class internationally direct to most places.
Picking the Airline
Typically, the home city of the airline has the best lounge. In Heathrow, London, Virgin Atlantic. Alaska in Seattle. But any lounge is better than not.
Lounge Subscription
Priority Pass is a service that gives access to a 1,000 lounges. The subscription is free with the Capitol One Venture X card.
When to Not Work From Travel
Some times it is just best to keep the laptop closed. I laugh when I see photos of people working from a climbing gym or from a Thailand beach. Some places are just too distracting to get anything done. Why would you want to work from a gym? Get your exercise in and leave. Focus on what's important in that moment. If you truly need a vacation, take a vacation. Don't try to work from a Mexican beach. Be honest with yourself. That's why cities are the best places to work remotely. London, Mexico City, Barcelona, and Bogotá are great places to check out for work.
✈️ ❤️
Happy Travels!