Employee Incentive Program
Add challenges to your recognition program to incentive manager sending their team recognitions or staff completing trainings.
Meet with Us
From sales bonuses to wellness, it is easy to setup an employee incentive app
Create any type of challenges you want completed by specific roles in the company. For instance, have customer service specific challenges or technology specific challenges. Keep it fresh and add new challenges anytime.
How to make challenges in an employee incentive app
Send us a spreadsheet of challenges or create them in the Company Admin.
Pick a category for reporting and a role for who can complete the task.
Also choose a value that can be tied to points or a bonus.

Employees report completion of challenges in the employee incentive app
A weekly wellness report, security certification, or following safety protocol, are all ideas for an employee incentive app. Staff can report challenges in Chrome, Outlook, Sharepoint, from this website, and more.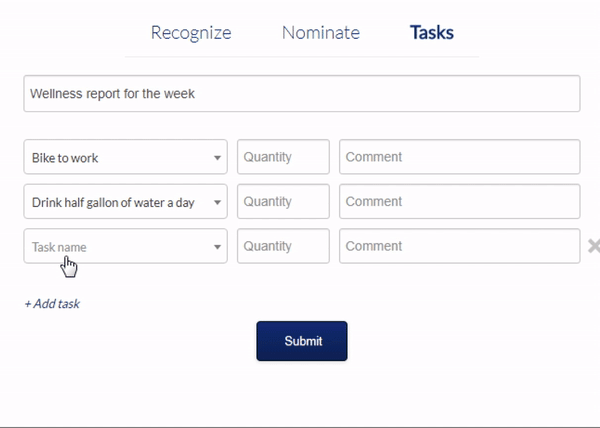 Painless manager workflow
Managers are notified when their direct reports complete the challenges. They have access to review and approve all their direct reports in the manager portal.
Managers and admins get a report of which challenges were completed by whom and what is the value of those challenges for a possible bonus or recognition.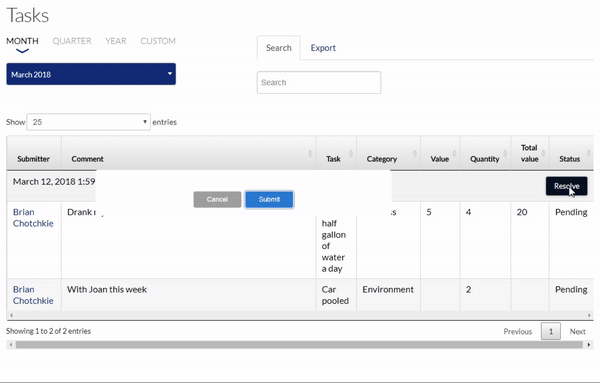 Staff use Recognize Incentives in the integrations
Complete challenges from Microsoft Teams, Outlook, and more.
See more Recognize videos
Meet with Us
Employee incentive app ideas
A list of possible employee incentive ideas you can use in Recognize.
Wellness Program
Biked to work
Walked for 15min-1hr
Ate vegetarian for a day/week
Meditated for 5min-1hr
Environmental & Social Responsibility Program
Carpooled
Started battery recycling
Started compost program
Volunteered
Donated
Cleaned a park
Safety Program
Followed safety protocol
Asked for help
No incidents in 30 days
Moved slowly
Sales Bonus Program
Opened new account
Reached sales quota
Opened new loan/credit card/service
Contacted 100 prospects in a day