Getting Started with a Corporate Wellness Program
April 2, 2021
A corporate wellness program can be incredibly complex or quite simple. Either way, it should be aligned with leader expectations and consider input from the employees. The results can be staggering. Outlined in this article, employees report feeling better, happier with their employment, and taking fewer sick days. Whatever program you ultimately design, in the end, employees that use it should like it. However, not everyone has to love it to still get an ROI.
Most companies that have under 20 employees may find it a challenge to implement all strategies outlined in this article. Since small companies have a limited number of employees for team challenges or just the availability in time to implement. For smaller companies, consider the number of people it takes to play pickleball, ultimate frisbee, or simply clean a park/river/wooded area/neighborhood. The great part about cleaning parks of trash is you don't have to be together. You can be at your own parks and share photos of before and after shots on your business collaboration tools, such as Slack or MS Teams.
Two things to consider going forward into a corporate wellness program: services and competition. Provide services to your employees such as access to online mental health, encourage healthy eating, online classes, and provide outlets to quit smoking or drinking. Concurrently, companies can utilize the power of gamification and competition. Think group competition rather than individual competition. Create groups across pods (e.g. cross-functional groups) or departments.
What is a Wellness Program?
An enterprise wellness program is helping staff live happier, more productive lives together as a unit. Wellness program encapsulates both mental well-being and body wellness. Wellness programs involve maintaining healthy diets, lowering smoking and bad habits, and building mental resilience to stress. The difference between a wellness program and personal health is a wellness program is ran by a group of people within an organization. Further, a wellness program is social, competitive, team-oriented, and has components of gamification.
Benefits of a Wellness Program
If you are here to learn how to create a wellness program in Recognize, it is a safe bet you already know the benefits.
SHRM state the benefits include:
Lowering health care costs
Reducing absenteeism
Achieving higher employee productivity
Reducing workers' compensation and disability-related costs
Reducing injuries
Improving employee morale and loyalty
In the United Healthcare Wellness Check-Up in 2018, it was found people who participated in a wellness program saw the following benefits:
67% reported reduced bodyweight
56% took fewer sick days
30% said a disease was detected
89% said mindfulness had a positive impact
How to Get Started with a Wellness Program?
In order to have a successful program, it is best to do a few things before jumping in on a vendor or building it yourself. HR leaders should prepare a survey for staff. The survey will allow leaders to know what to include and not include in the program. Concurrently consult lawyers on the risks of introducing such a plan.
Start small
Just like any employee experience program, start small and dream big. Introduce one program into your wellness schema and add to it as time goes on. Staff will appreciate the focus and enjoy the new additions.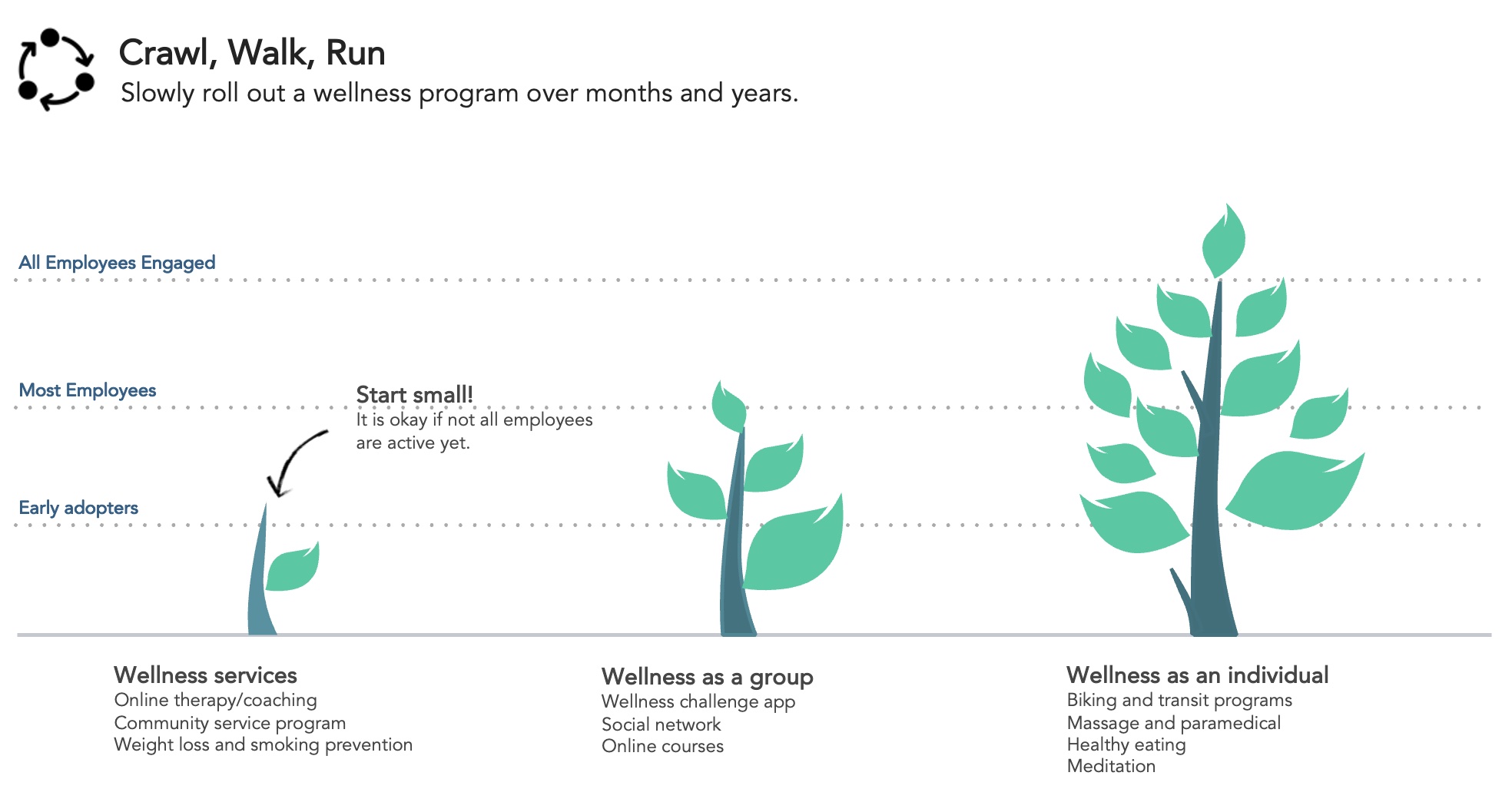 Gain consensus & focus
Get a number of stakeholders involved as part of a Corporate Engagement Committee. This group should not only talk about wellness but also recognition, surveys, community involvement, and more.
Specific corporate wellness programs to consider:
Wellness challenges & goals
Incentive good habits
Smoking cessation
Public transit and bike incentives
Paramedical services, such as massage
Classes, such as spin, yoga, or Thai chi
Health snack budget
Mentorship & coaching programs
Socialize wellness by posting to an internal business network or newsletter
How to Create a Corporate Wellness Program in Recognize
The Recognize employee recognition program utilizes gamification to enable companies to configure different objectives. One objective is wellness. Companies can create badges, points, leaderboards, tasks, rewards, and award certifications all-around wellness. Staff can report completing challenges or recognizing others for those challenges. Recognize helps companies who want to provide recognition and wellness challenges to staff in one easy platform.
Wellness Recognition Badges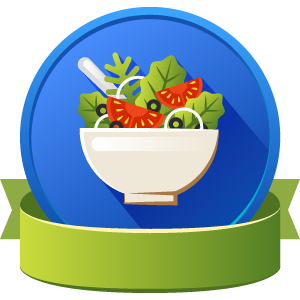 Wellness Incentives in Recognize
In the Recognize Incentives program, leaders can create any kind of task. For instance, if you get eight hours of sleep each night for a week, report it to your manager in Recognize for points. At the same time, the company needs to reinforce how they feel sleeping is important for employees with infographics and reminders. So along with staff being able to report wellness, employers are promoting wellness.
Ideas for wellness tasks
Meditation for 15min
Got 8hrs of sleep
Took 15min class
Took 30min exercise class
Didn't smoke in a day
Didn't smoke in a week
When staff receives points for completing these tasks, they can turn those points in for rewards, such as time off or a gift card.
Eat right, no phone before bed, no junk food, no working out, dim the lights one hour before sleep.
Nominate Top Wellness Staff
Allow employees to nominate themselves or others through monthly, quarterly, and yearly awards. Leaders can count the votes and the people who received the most votes ins. Using Recognize, companies can college nominations from Microsoft Teams, Outlook, or other integrations.
Ideas of results for a nomination program:
Use the monthly and quarter nominations to put the winners into a raffle for end of year prizes
Give cash bonuses to winners
Give decision-making powers to winners. For instance, the winner in most improved can be part of the Wellness Community
Putting it Together in Employer Wellness Programs
Recognize sees the future of Wellness and has a roadmap of features to keep making things like a wellness program better for companies. Just like Recognize growing, companies can grow as well with their program. Start small and focused. When Instagram, it was pictures, filters, and a feed. It was a five-page app. Now Instagram is a complex social network rivaling its parent Facebook. Your program can be the same. Focus on that "photo filter innovation". Focus on bringing one thing that everyone will really appreciate in your corporate wellness program. Then grow on top of that.
Things to do initially
Weekend community service
Walking teams
Healthy snack budget
Mental health awareness
Move improved flexibility contests
Days being vegetarian contests
Incentivize, Recognize, Reward
Recognize increases staff productivity, provides company engagement insights, and helps retain top employees. Providing HR with an out-of-box solution since 2012.
Schedule Live Demo